Practice Leads
The primary goal of Practice Leaders of the Inner Refuge Practice Group is to provide a range of effective tools and program offerings that promote transformational thought, helpful daily practices, and support each individual's ability to claim the freedom, joy and peace they seek in all aspects of their lives.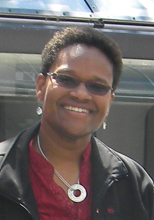 Lois Boxill, M.Sc., M.Div., P.Eng.
Lois Boxill is an ordained Episcopal/Anglican priest who is also a practicing consulting civil engineer based in Vancouver. For the past four years Lois has also been an active practitioner of insight meditation and is devoted to creating spaces of inclusion and welcome for all people. Lois helps others affirm the root of universal wisdom, beauty and strength within.
Lois is the founding director of Inner Refuge where she is a mentoring and retreat practice lead.
Kerry Baisley
Kerry is a trained social worker who has been practicing Reiki for the past 5 years. With honed listening skills, Kerry has devoted his practice to journeying with people to discover their own gifts and purposes based on their values and passions.
Kerry is a Reiki and retreat practice lead with Inner Refuge.
Evelyn Zellerer
Evelyn specializes in working with groups to hold productive meetings, transform conflict and build relationships. Evelyn has a Ph.D. in criminology and is committed to continual learning. Evelyn has been a peacemaker her whole life. She is a bridge between your current situation and what is possible.
Louise Boxill, ND, ARNP
Born in Barbados, Louise is from a family that lives very close to the land, believes in nurturing healthy relationships, and promoting healing by natural means when possible. She chose to pursue degrees in Naturopathic Medicine and as a Nurse Practitioner because of her desire to serve, listen, teach, and coach women and families to reach their highest health goals and obtain appropriate tools to make informed choices for their own health and the future well being of their respective families and communities.
Thomi Glover, M.A., M.Div., CSD, PCC
Thomi Glover is an ordained Anglican Priest, whose ministry is "in the world" where she practices as a leadership consultant, specialist in Emotional Intelligence, and Executive Coach as well as offering spiritual direction. She is fully certified in both Spiritual Direction, from the Mercy Centre in California, and in Professional Coaching through the International Coach Federation.